Roberto Carlos has been described as "the most offensive-minded left back in the history of the game."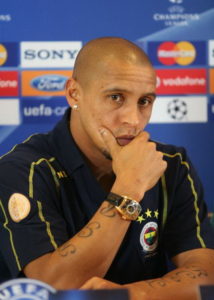 | | |
| --- | --- |
| Full name | Roberto Carlos da Silva Rocha |
| Date of birth | 10 April 1973 |
| Place of birth | São Paulo, Brazil |
| Position | Left back |
He was also nicknamed "The bullet man", after one of his trademark free kicks was measured at 105 mph (169km/h).
He played his best football during 11 years for Real Madrid where he is considered by fans as the 4th best player in the club history behind Di Stephano, Zidane and Raul.
His devastating left foot helped Real Madrid to win four Spanish championships (1996-97, 2000-01, 2002-03 and 2006-07) and three Champions Leagues (1997-98, 1999-00 and 2001-02). He is Real Madrid's most capped foreign-born player with 370 appearances.
Roberto Carlos played three World Cups with Brazil (1998, 2002, 2006). Brazil won the 2002 edition thanks to its "royal four aces" Rivaldo, Ronaldo, Ronaldinho and Roberto Carlos who scored 16 of Brazil's 18 goals during the competition.
He finished 2nd in the 2002 Ballon d'Or just behind his team mate at international and club level Ronaldo.