Johan Cruijff (known as "Cruyff" outside the Netherlands), is considered one of the best players in the history of football. This exceptional player bestrode the 1970s due to his talent and charisma with two prestigious teams: Ajax and Barcelona.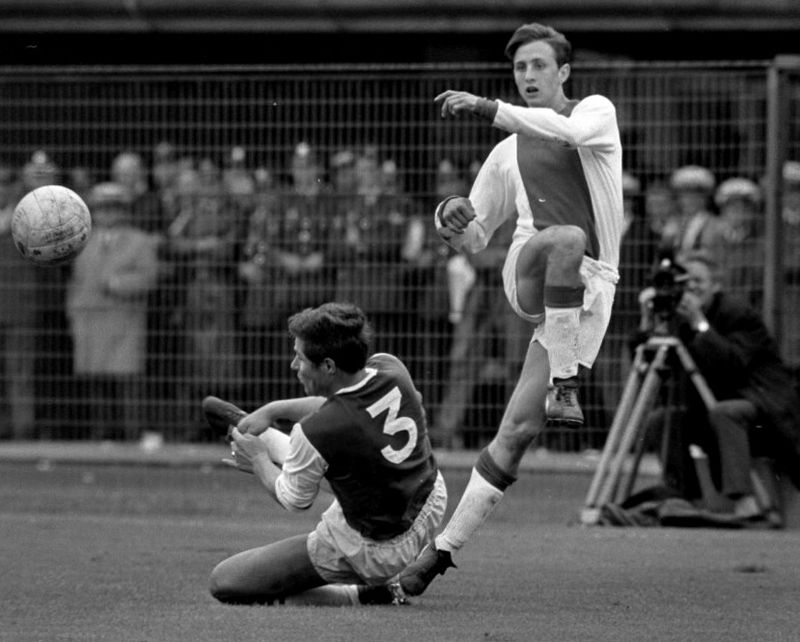 Cruyff seen here playing for Ajax against Feyenoord in 1967
| | |
| --- | --- |
| Full name | Hendrik Johannes Cruijff |
| Date of birth | 25 April 1947 |
| Place of birth | Amsterdam, Netherlands |
| Position | Attacking Midfielder / Forward |
His speed and agility were his strongest points; he had the ability to run as fast with or without a ball and his statistics equalled the best sprinters of the day. This ability made him the poster-boy of "Total football."
With this type of play, which he later imported to Barca as coach, he became the first player to win three Ballon d'Or (1971, 1973 and 1974).
During his career, Cruyff won three Champions Leagues in a row (1970-71, 1971-72 and 1972-73) eight Eredivisie with Ajax, La Liga with Barcelona (1973-74) and another Eredivisie with Feyenoord (1983-84). He also reached the final of the 1974 World Cup.
The Dutch national team never lost a match in which Cruyff scored.
Cruyff's style of play and philosophy has had a massive influence, up to the present day, on many managers and players.